The Future Energy Show Philippines 2022 just closed in SMX Convention Center Manila, Pasay City, Manila on 7th-8th, September 2022.
As the Philippines' largest energy event, give vistors access to the Exhibition Hall with hundreds of products and solutions, and six content theatres covering Rooftop Solar, Large Scale Solar, Smart Grid/ T&D, Energy Storage, Alternative Renewables, and Rural Electrification.
80+ movers and shakers in the energy and solar space showcase the most innovative products and solutions. East Lux Energy is proud to be a part of this time, showcasing the best renewable and smart energy solutions available from across Asia. East Lux Energy show four kinds of our solar panels at our booth this time, which are our precise positioning solar panel for various types of projects.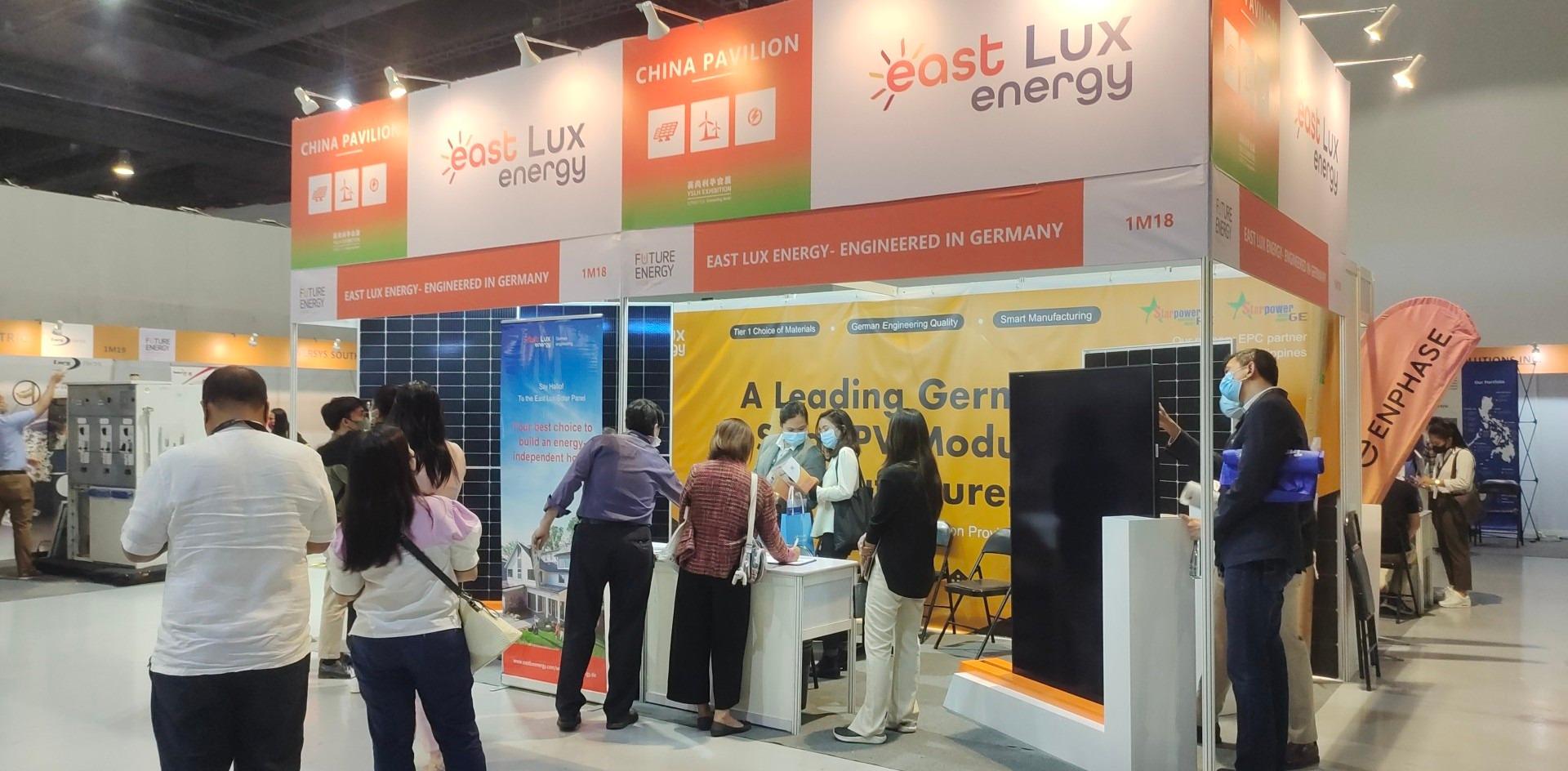 East Lux Energy at The Future Energy Show Philippines 2022!
1. Mars X Pro Series-N-IBC 380w solar panel(EL-120-380W)
Mars X Pro series solar panel is using the new generation N-Type solar cell, aesthetic appearance make the project more visually appealing,and this kind solar panel is a bit different than the other standard solar panels, having 25 Years product warranty, minimal power degradation (93% of initial after 25 years)! Usually customers who are more demanding on the appearance of the project and with a higher budget will consider this type.
2. Mars M6 Series-210mm 665w solar panel(EL-665M6-66H)
Mars M6 Series solar panel is using the 210mm mono wafer, is the high-performance best choice for large-sized aboveground power stations.
Carries forward the long-lasting and efficient quality of East Lux Mars Series Modules, and boasts the well-established core advantages, namely, high efficiency, high power, high reliability, low voltage, and low BOS cost & low LCOE.
3. Mars M5 Series-182mm 540w solar panel(EL-540M5-72H)
4. Mars M5 Series-182mm 450w solar panel(EL-450M5-60H)
Mars M5 Series solar panel is using the 182mm mono wafer, is the precise solution for residential and C & I system.
540w solar panel with excellent performance and high out, is our most popular solar panels from last year till now not only in Philippines,
450w solar panel with small size, designed for easy installation on rooftops, widely using in the residential projects.
The number of visitors to this exhibition is large and it has been a complete success. East Lux Energy are Looking forward to the The Future Energy Show Philippines next year, all customers are welcome to come and visit.